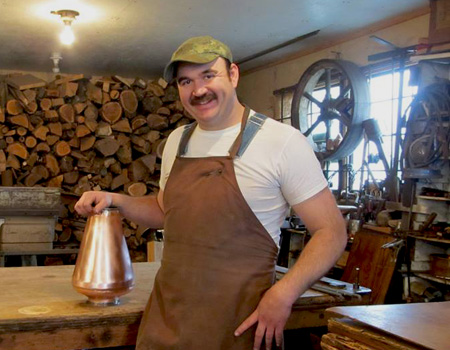 Coppersmithing came to America with the settlers. The now, traditional styles were developed over the years. Our kettles are strong and durable and suited for constant use. They are constructed of copper with silver solder and are food-safe. The pieces are food-safe, but food should not be left in the vessel when cooking is completed. Tarnish can be removed with Wright's® Copper Cleaner.
The speciality pieces were adapted from pieces pictured in books printed in 1700's, 1800's and 1900's. The coffee pot is from a 1700's book. The wash boilers were made before the turn of the century. The other pieces are based on commercially-made containers — hand hammered and shaped.
Caldwell Mountain Copper was established by Porter and Faye Caldwell. Porter trained Elliott Muncey in the old-fashioned art of coppersmithing. Elliott & Laura Muncey inherited the business in 2018 and Elliott continues to craft copper into beautiful kettles, other vessels, and custom pieces.