Caldwell Mountain Copper
P. O. Box 327
Fincastle, Virginia 24090
Priced effective: November 1, 2012
7:00 A.M. and 10 P.M.
Sales Only - Toll Free:
1-877-344-6384
E-mail Us



Copper Gallery
Custom Pieces, Tinning, Other Sizes
Tin and Silver Alloy Lining available with any vessel
Prices upon request
Prices do not include sales tax.
We ship up to 30 gallons by DHL- shipping is extra.
Larger items by truck freight.

Click here for a printable brochure.
New pricing in effect Novemember 01, 2011

Apple Butter Kettles
Priced with Bail (as pictured)
Rolled top no longer available
10 Gallon (16" x 13 1/2") $405 (10 lbs.)
15 Gallon (19 1/2" x 15") $490 (15 lbs.)
20 Gallon (21 1/2" x 16") $560 (20 lbs.)
30 Gallon (24" x 18") $615 (30 lbs.)
40 Gallon (26" x 18") $680 (40 lbs.)
50 Gallon (30" x 21") $770 (50 lbs.)
60 Gallon (32" x 22") $830 (60 lbs.)
75 Gallon (34" x 21") $925 (75 lbs.)
100 Gallon (36" x 22") $1,030 (100 lbs.)
Handles with bail $30 extra



Stands

(Iron Only)
10 and 15 Gallon Stand $75
20 and 30 Gallon stand $90
40 Gallon $95
50 and 60 Gallon $100
75 Gallon $125
100 Gallon $135





Small Kettles
French Style
and Trade-Ear Style
(all three available with or without lids)
6 Quart (8" x 10") $160
3 Gallon (12" x 10") $240
5 Gallon (13" x 10") $280
Lid for 6 quart kettle $45.00
Lid for 3 gallon kettle $50.00
We offer the above in kettle-bottom or
flat-bottom style


Buckets
Buckets
We can alter or modify the buckets
to wants of the customer

6 Quart Bucket (9" x 8") $70
10 Quart Milk Bucket Style (12" x 11") $90
(larger sizes available - prices upon request)


Flat side seam, hemmed bottom and trade ear
The Buckets are 150 year-old style water tight and
food-safe. They are nice ornamental pieces.


1700's Style
1700's Style

1700's Style favored by museums
and re-enactors.

5 Gallon and up - price upon request


Chocolate Pot, Syrup Pitcher and Tea Kettle
Chocolate Pot, Syrup Pitcher and Tea Kettle
1700's Style

2 Quart Chocolate Pot (8" x 4 1/2") $95
Syrup Pitcher (3" x 4") $80
3 Quart Tea Kettle (7" x 8") $95


Either style lid is available with either vessel



Jelly Kettle
Jelly Kettle

2 Gallon $215
5 Gallon $285
6 Gallon $325
7 Gallon $360
Also available with iron handles and lids


Popcorn Kettle
Popcorn Kettle

$700
20" bottom
30" top
26" deep


Foot Tubs
Foot Tubs

Small Tub (13" x 2 1/2") $85 (pictured)
Medium Tub (16" x 7") $95
Large Tub (19" x 8 1/2") $105
No. 2 Washing Tub (21" X 11") $135 (pictured)
Please note that all the kettles, buckets, and vessels made at
Caldwell Mountain Copper carry this logo.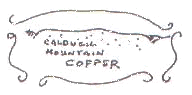 Click here for a printable brochure.
Click here for free Acrobat Reader® software so you can view and print Adobe PDF files.
Due to the rapidly rising cost of materials and labor used in the manufacture of copper vessels, it will be necessary to adjust prices on a frequent basis. We will make your order and let you know
when it is finished and what the prices is so that you can decide whether you wish to take the finished product. We have no problem with that.
The above prices and the prices on the brochure are estimates only.
Copyright © 2012 Caldwell Mountain Copper
All rights reserved.